Smart locks for offices
With high footfall and users with different access requirements, offices are the ideal places to benefit from smart locks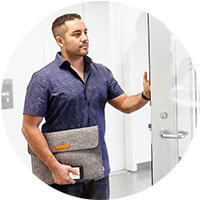 Choosing smart locks for offices
There are two main types of smart locks for offices: adapted smart locks which turn your existing locks into smart locks, and native smart locks where an entirely new smart lock system is installed.
Adapted smart locks will be less disruptive to the office environment and will mean existing physical keys work for staff, contractors, etc. However, native smart lock solution may be better if a new lock system is required. Equally, whether a door is internal or external will be a part in what smart lock solution is best for your office.
A smart lock solution can be fitted to a metal / aluminium office door and theoretically, all the lock solutions of a wooden door can be applied to a metal door too. However, solenoid bolts and maglocks will be more appropriate than others.
A wooden office door has more flexibility than a metal / aluminium door, and so more lock solutions are available, if required. For example night latch, mortise latch, deadbolt, electric multipoint, maglock, solenoid bolt, etc. A good solution would be an electric multipoint lock as it provides a robust and secure lock solution.
When choosing smart locks for your office doors, it's worth considering how access is currently managed, how it is administered and how the staff handle access. Combining a smart lock solution with an access control system can significantly improve operational efficiency.
When it comes to the fitting a smart lock at your office, the professional installer would first plan out the installation so that it meets the requirements of the office space and those who use it. Afterwards, they would then ensure that the office staff are happy with the installation and it works correctly.
To get the price for smart locks for your office, you can use our price calculator.
Learn more about smart locks for offices.
Types of smart locks for offices
There are two main types of smart locks for offices:
Adapted smart locks for offices
Adapted smart locks are a popular smart lock solution for offices as your existing locks remain in place, with an electrical component added to make these locks smart.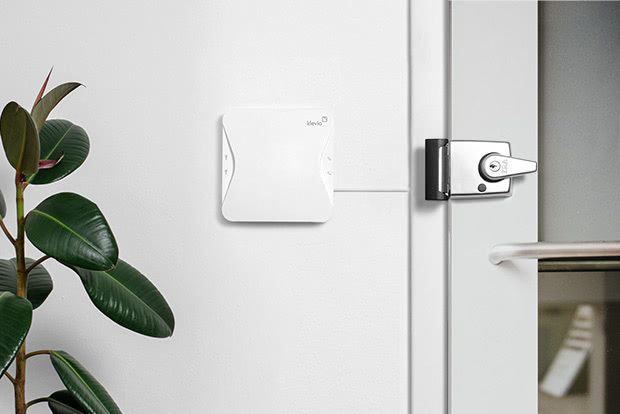 Native smart locks for offices
Native smart locks replace the existing office lock with a smart lock. As everything is housed within the one lock, they are larger than existing locks.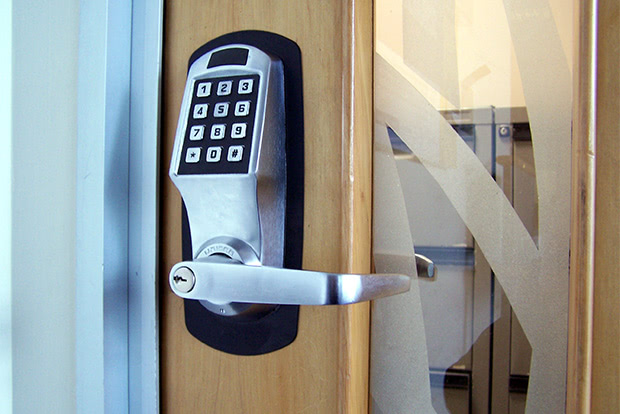 So, we need to look deeper to find the best type of smart lock for your office…
What type of smart lock is recommended to secure an office door?
There are two main questions to look at when choosing a smart door lock for your office.
Would an adapted smart lock or native smart lock be best for your office?
In order to get a smart lock for your office doors, the most convenient solution would be to choose an adapted smart lock solution. That's because adapted smart door locks turn your existing locks into smart locks. This invariably makes the installation process easier and the administration more straight-forward (because existing physical keys will still work as a back-up solution).
Alongside this, an adapted smart lock solution for the office door gives the option to upgrade the lock to better meet the needs of the staff and the business.
The alternative to adapted smart door locks is native smart locks for your office. In order to install these, the existing office door locks would be removed and replaced with native smart locks. As a result, there is often great interruption with the installation and it may mean more work around the door needs to be done to maintain the appearance of the office.
Native smart door locks will often be larger than the current office locks so the appearance of the doors will change.
Are you looking for a smart door lock for an internal or external office door?
If you are thinking about adding a smart lock solution on an external office door (the door connecting the office to a street entrance), if you haven't already got a higher security door lock, then it might be safer to have one installed. For example, an electric multipoint or solenoid bolt.
If you'd like a smart lock solution for an internal office door, then security may be less of a priority so if you want a new lock installed at the office, a nightlatch, mortise latch and strike, etc. may suffice. An adapted smart lock solution can then simply be added to any of these locks to provide the smart access required.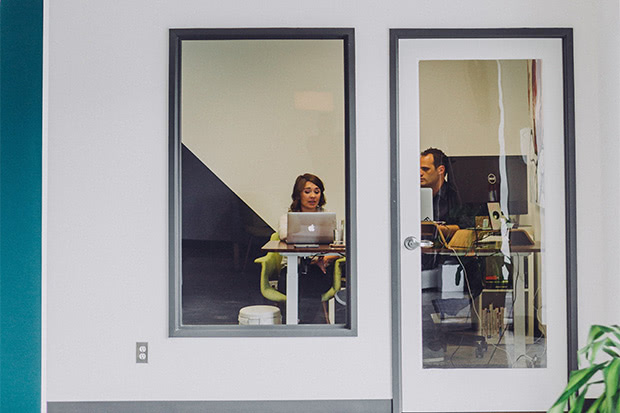 How do smart locks work on metal / aluminium office doors?
Adapted smart door locks work on metal office doors because they work with existing locks on the door.
Of course, if the existing metal or aluminium door lock requires an upgrade then this can be done and then the relevant lock adapted into a smart lock solution.
It's therefore theoretically possible to include all the locks on a metal door that you would do on a wooden office door, for example - electric multipoint, mortice, latch, maglock, etc. If you have a metal door and a deadbolt lock on there already, then it's likely that it will be a case of installing a new lock.
In choosing a lock for your metal office door, the choice would depend upon the budget, security requirements, footfall, etc.
Aluminium is not as sturdy or strong as steel, but is more malleable which makes it easier to complete the installation. However, these properties also make it harder to secure things to an aluminium office door.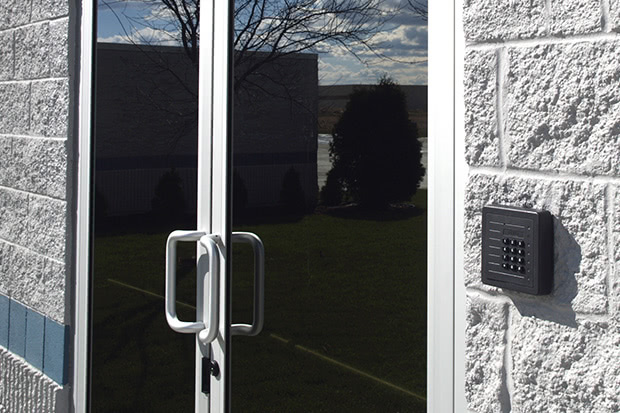 The best smart door lock solution for metal / aluminium office doors
Over the years we have added smart lock solutions to many metal doors.
This can be done to both the existing locks on metal / aluminium doors, or, if the customer requests it, new locks can be installed to better meet the office requirements, and then these locks adapted into smart locks.
In our experience, often the best locks for metal office doors are solenoid bolts or maglocks. Metal doors can often be difficult to fit a new lock - however, some solenoid bolts and maglocks can be surface mounted which means the lock can be added to the door, with cabling then run to the bolt with trunking to make the cable run neat.
An easy way to provide a smart lock solution to a metal office door would be to install a Klevio device nearby which turns the lock into a smart lock.
Solenoid bolts usually have a higher holding force than a maglock which may be a deciding factor in the solution for a smart lock on a metal office door. The stronger holding force would help prevent the door from being pushed / kicked open. As solenoid bolts are electric mechanical locks, if the power is cut, the lock will unlock, which is why they are often fitted with a back-up battery.
As a result of the specific properties of aluminium office doors, a solenoid bolt could be used but the fixings would be slightly different to those used on a steel door.
Other options to fit a smart lock onto a metal office door will be significantly harder to install as it will require mortising out the metal door to fit the lock. For some metal office doors, this will be relatively straightforward, however for others it will be extremely difficult.
See more details on how smart locks work 
How do smart locks work on wooden office doors?
Due to the nature of wooden office doors, it will be easier to install a smart lock solution on them than on metal / aluminium or uPVC office doors. As a result, there are many more options with these doors.
For example, with a plain timber office door, any smart lock solution could be fitted relatively easily - for example, night latch, mortise latch, deadbolt, electric multipoint, maglock, solenoid bolt, etc.
The best smart door lock solution for wooden office doors
A good solution for a wooden office door would be an electric multipoint. This would provide a robust and secure solution and deliver a smooth experience with Klevio. For example, when the office door is closed, it instantly locks on three points. With a swipe on the phone app, the door would instantly unlock.
In this scenario, other hardware such as a push to exit button or emergency door release are not required.
Overall, this will provide a better manual smart lock user experience as people will instinctively know how to open the door.
As an alternative, a straightforward nightlatch and electric strike would be a good option. This would be a more affordable and convenient solution than an electric multipoint. But this option would only be suitable if a nightlatch was already installed on the door.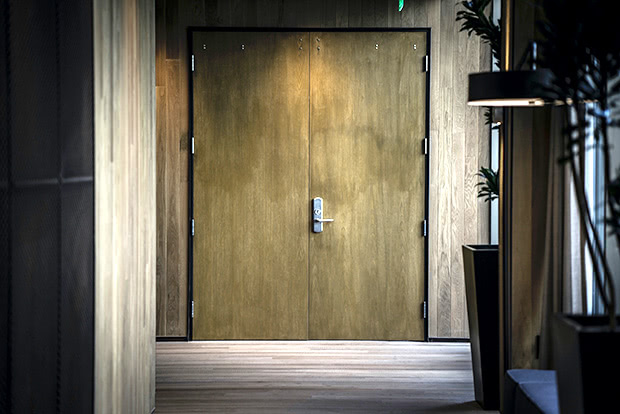 How do you choose a smart lock for your office?
Choosing a smart lock for your office doors
All offices have different circumstances and requirements so the right solution is one that works best for:
Your particular office environment and building
The staff who work there
The administrators who run the office
Combining office smart locks with access control
As an office has a relatively high footfall and often different people come and go throughout the week (staff, contractors, cleaners, visitors, etc.), it can be difficult to keep track of who should have access, to which areas and when.
In these situations, combining an office smart lock with an access control solution can help the office run more efficiently.
The office smart lock solution will enable people to come and go as required. Meanwhile, access control makes it easier to ensure the correct people have access to the appropriate floors, rooms and offices at the right times.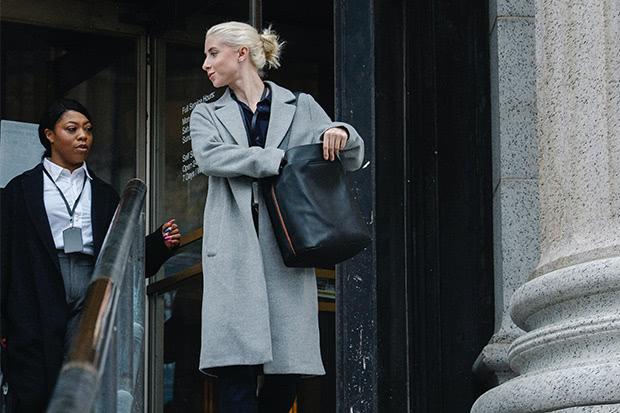 How do you fit a smart lock at your office?
In order to fit an adapted smart lock in an office, a professional installer would typically complete several steps in order to ensure the correct smart lock solution was successfully fitted at the office:
Assessment of the requirements of the staff and the business to decide on the best smart lock solution for their needs.
Once the locks are selected, the installer would become familiar with each lock and the office doors each lock would be used for. This may include getting measurements and ideally photos of the existing doors and potentially conducting a site survey of the office. If required, adjustments are then made to ensure the planned solution will be the correct one for the office, the lock would fit, etc.
If any of the office doors require their locks to be mortised out, then specialist tools would be required. These will be prepared in advance of the installation day.
Once on site at the office and before starting any work, the installer would plan out where each component would go, e.g. planning the location of any buttons or power supplies, devices or units, etc.
The installer would begin installing the relevant locks and devices to the office doors.
The locks and smart devices would be tested to ensure they work as required.
If office staff or managers / administrators are at the office, they would be able to check everything works correctly and that they are satisfied.
Once fitted and staff are onboarded, the chosen smart lock should be easy to use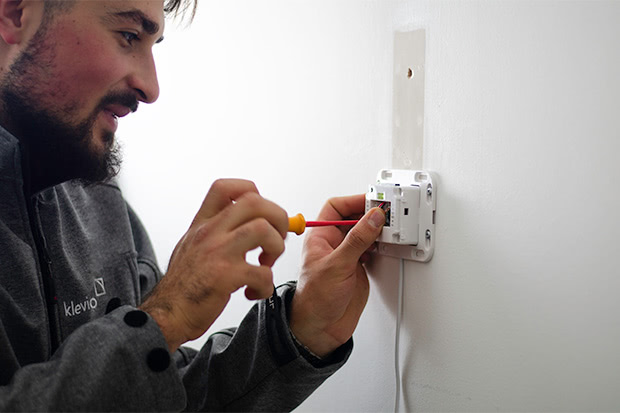 The cost of smart locks for offices
The easy way to find out how much it will cost to get a smart lock solution for your offices is to get the pricing here.
The price would be based upon the number of offices where you would like to have smart locks added and the number of keyholders who might require access.