Klevio works with your existing setup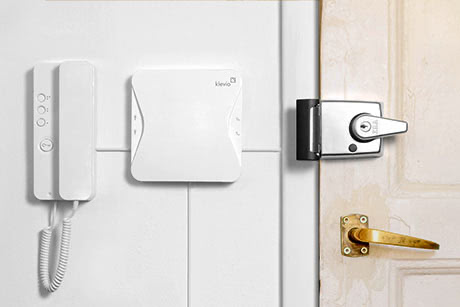 Klevio works with any existing doors, locks and entry systems. See how your existing setup works with Klevio and how easy it is to fit.
Find your lock
Rim latch

A rim latch is mounted on the inside of your door and secures your door using a triangular latch.

Click here to learn how Klevio works with this lock.

Mortice latch

A mortice latch has a triangular bolt similar to a rim latch, but is installed within the door itself.

Click here to learn how Klevio works with this lock.

Mortice deadbolt

A mortice deadbolt is a square bolt which is installed within the door.

Click here to learn how Klevio works with this lock.

Multi-point locks

A multi-point lock is one that throws multiple bolts or hooks, usually when you lift the external handle.

Click here to learn how Klevio works with this lock.

Several locks

Klevio is designed to work with the primary lock on your door. If you're looking to control several locking mechanisms simultaneously please get in touch for a bespoke quote.
It's easy to make your life easier
Our experts are here to help. There's no obligation - just great support so you have all the information you need to make the right decision for you and your business.
Intercom compatibility
Replacement or parallel
Klevio is compatible with most intercom systems. For fully compatible intercoms, we can remove your current device and install Klevio as your new intercom in its place. Alternatively, you may choose to keep your current device (for example, if it has video features) and have Klevio installed alongside it. For partially compatible intercoms, only this last option is available.
Upcoming features
Fully compatible intercoms will let you access new Klevio features when they are released, such as receiving remote doorbell alerts & speaking to visitors remotely through the Klevio App. For partially compatible intercoms, only basic digital access features will be available.
Find your intercom
Enter your intercom make and model
To check the options available to you, select the make and model of your intercom using the drop down menu below.
Your intercom is compatible with:
Klevio is easily installed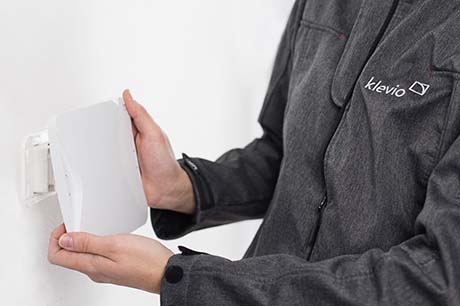 Whichever way you want it, we've got you covered
Installation is straightforward because Klevio uses your existing doors, locks, entry systems.
Depending upon the property location, our trained installers can complete the installation or we can support your own installers. Either way, you get the smart lock solution you need - conveniently.