The tech behind every unlock
Seamlessly executed. Proven 1.5+ million times.
From your app to your lock
From app to unlock, lightning fast
A simple swipe on the digital key in the Klevio app or Web Dashboard sends an unlock command through secure servers to the Klevio device installed at the property. The device then triggers the appropriate lock. And all this happens in under 500 milliseconds.
Control access from your fingertips
A Klevio device is usually wired to locks directly or via an existing system. Bluetooth key-turners may also be used. If your current doors aren't electric, we'll electrify them without changing your keys.
Once a Klevio device is connected to a lock, you can control it from your Klevio App or Dashboard.
How we electrify your doors
Electric strike

An electric strike sits in the door frame as a replacement for the traditional fixed metal keep. It can be wired to a Klevio and will release when it receives an unlock command. Learn more about electric strikes in this video

Mag lock

This is a fully electric lock that's commonly used in shops & offices. It provides an easy way of installing Klevio on things like double doors and other setups where an electric strike isn't an option.

Battery powered key turner

A key turner is a device that attaches directly onto your door and turns a key when triggered. It runs on batteries and communicates with your Klevio device via Bluetooth instead of wiring. We usually recommend a key turner for doors with deadbolts.
Integrating with access systems & intercoms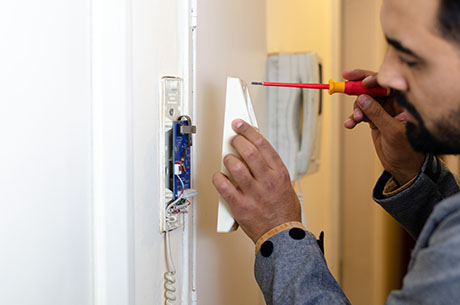 Replacement or parallel installations
Klevio is fully compatible with all access control systems, including those from Paxton, BPT, URMET, Comelit & PAC GDX. We are also compatible with all analogue intercom systems and several digital intercom systems. Your current handset can be replaced or it can be kept with Klevio installed in parallel.
To see how your current system would work with Klevio, please visit our Compatibility page
It's easy to make your life easier
Our experts are here to help. There's no obligation - just great support so you have all the information you need to make the right decision for you and your business.
Installing Klevio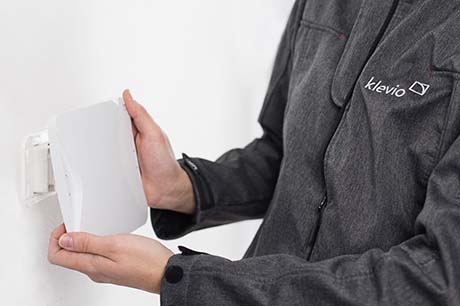 Trained installers &
technical support
In some parts of the UK we can provide trained Klevio installers to implement or assist with your installation. For other areas, we can provide technical support so you can install Klevio successfully - please contact our Solutions Team for more details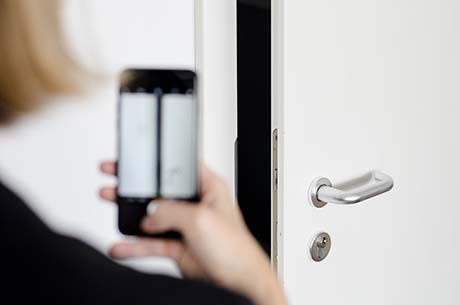 The installation survey
Before we proceed with your installation, we will send you a survey where you'll document all the doors & locks you want to integrate with Klevio. This enables us to prepare the right hardware solution for your setup.
Example installation with
an existing intercom handset
Secure apps & dependable hardware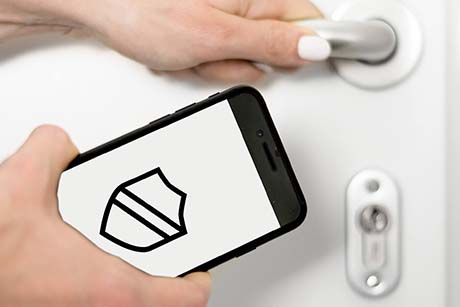 Maximum security
Our Klevio apps use bank-level encryption standards and our devices are connected to mains power - no batteries involved.