Rake in 5-star Host reviews with Airbnb keyless entry
How to make a great first impression as an Airbnb Host


As an Airbnb Host, you always want to create a first class experience for your guests - from the very first moment they arrive at your property to the last minute they leave. After all, you want as many 5-star reviews as possible.
Fortunately, delivering this great experience is more straightforward than ever before. Here's how...
Easily manage access &
elevate guest experience
The Agony of an Airbnb Host
As an Airbnb Host, do you want great reviews from all your guests? Of course you do.
But did you know that even before your guests have crossed the threshold of your property, you could have already created a terrible impression that will make it harder to collect a positive review...
Yet, even if right now, you're successfully getting lots of great reviews, you're unintentionally creating a far-from-ideal first impression. And that means you're having to work sooooo much harder throughout your guests' stay, in order to claw back some positive sentiment from your guests that encourages them to give you those wonderful 5 stars.
Wouldn't it be great to give a really amazing experience even before a guest has set foot inside your property?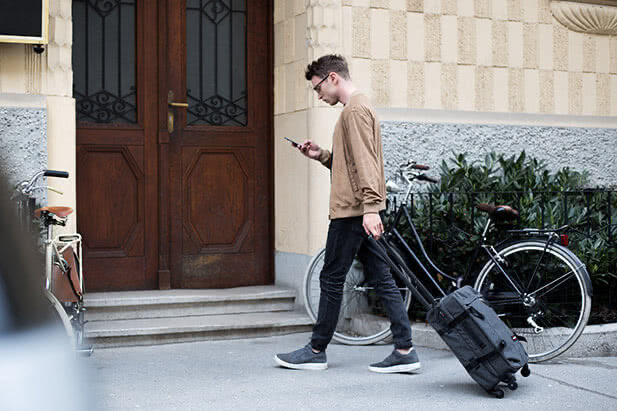 So what are Hosts doing wrong?
They say 'first impressions count'.
So let's imagine the first experience from the guests' perspective. They have travelled to come to your property - maybe even from a different country. After their journey they want to get to the property, relax and settle in.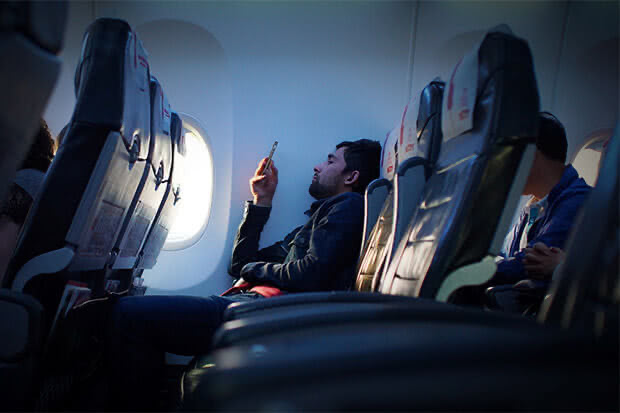 Let's have a 'Sliding Doors' moment...
There are two scenarios for our Airbnb guests.
On one hand (we'll call this scenario 'Gwyneth One'), before a guest can even open the door they have a problem to solve.
Tired from their journey, probably hungry, invariably just wanting to get into their booked Airbnb - problem solving is the last thing they want. Opening the front door shouldn't be difficult. But it is. The guests have to trudge to a shop to collect the key or crack the code of a lock box (after first finding it).
A painful, frustrating experience. Not welcoming. Not inviting. Not enjoyable.
But it could all be so different.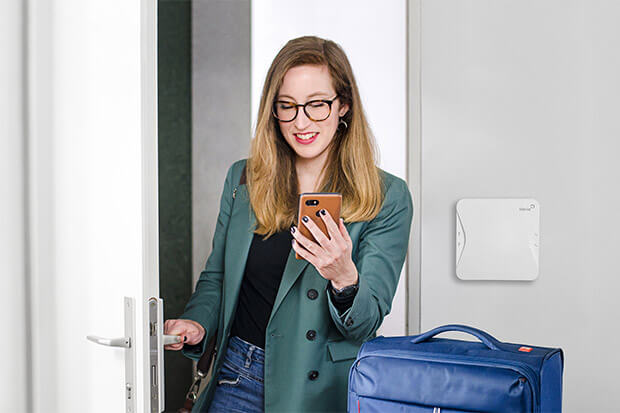 Our second scenario (Gwyneth Two) features guests experiencing the same difficult journey to reach your Airbnb property. But this is where the paths split.
The guests already have the key - a digital key - on their smartphone, which gives them access to the property as soon as they arrive.
The Host sent the key to them in advance so it would all run smoothly for both the Airbnb Host and their guests.
The guests reach the front door, use the keyless entry software to open the door. The lock clicks unlocked, the guest pushes the door and they walk inside. Relaxed. Delighted. Enthusiastic.
What's the difference between our two scenarios? Three words...
Airbnb Keyless Entry
As a Host, there are many things that can go wrong that might lead to anything other than a 5-star Airbnb review. So adding a keyless entry system to your Airbnb property is such a straightforward way to improve your chances of getting a 5-star review.
Here's what other Airbnb Hosts say about their keyless entry solution: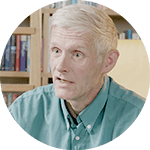 "Being able to unlock the doors for my guests over the phone never fails to impress."
- Peter Tompkins, Airbnb host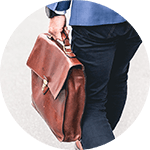 "We give all our guests the choice of digital or physical keys and they all love digital"
- Manager at a short let management company
There's one solution that connects these two reviews. Their chosen way to achieve a keyless entry solution for their Airbnb is with Klevio.
So let's look at this in more detail and see if it can help your Airbnb too…
A viable solution for your Airbnb
Many Hosts already have Klevio, the keyless entry solution, installed.
So let's dive in to see if it's going to be the right system for helping you rake in more of those magical 5-star reviews...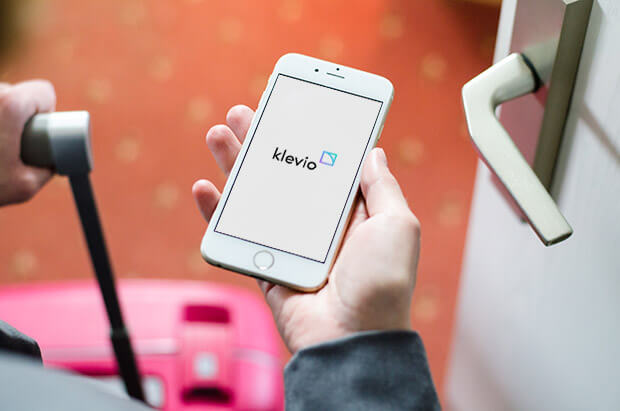 You can say "I'll let you in" from anywhere
Airbnb Hosts find it incredibly useful that they are in control (unsurprising considering it is, after all, their property) and able to lock and unlock their doors remotely - which is perfect when a guest turns up early or a tradesperson needs emergency access.
Busy Hosts need a keyless entry solution that fits around their needs, schedule and lifestyle. Otherwise, every time someone needs to gain access, the Host is forced to drop what they're doing, travel to the property, unlock the door and then travel all the way home again, on many occasions - and that can be a pain.
With digital keys and the associated smart lock, Hosts can easily manage entry to their property for guests (so the guests can lock and unlock doors as required, using their phone). These digital keys can be shared remotely by the Host (so the Host and guests don't have to be there at any point in-person or even meet each other).
What's more, the digital keys can be time activated and deactivated so the guests' access to the Airbnb automatically coincides with their booking. So, at the appropriate time, the guest can self check-in with just a couple of clicks on their phone when they arrive.
You've already got existing locks
It's worth noting that the tech behind the keyless entry system can be installed onto any existing lock (with Klevio) - so you never have to worry about whether your physical keys for your Airbnb will work again - they will.
Everything will continue working just as usual - but with a stylish layer of secure tech added to make your life as a Host easier. Bonus.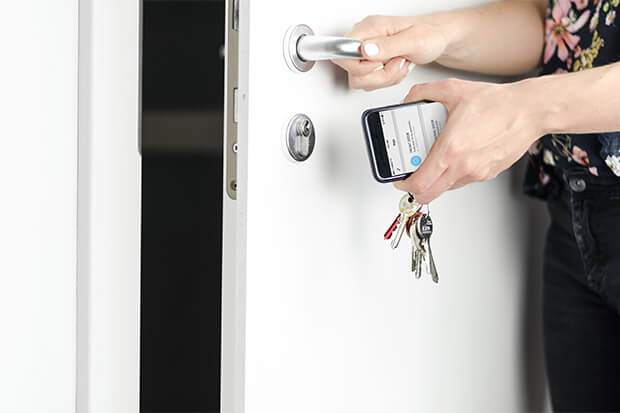 The wow factor
Plus, every guest knows that it's super cool to use a phone to unlock or lock a door. So you'll instantly wow your guests even before they've even set foot inside your property.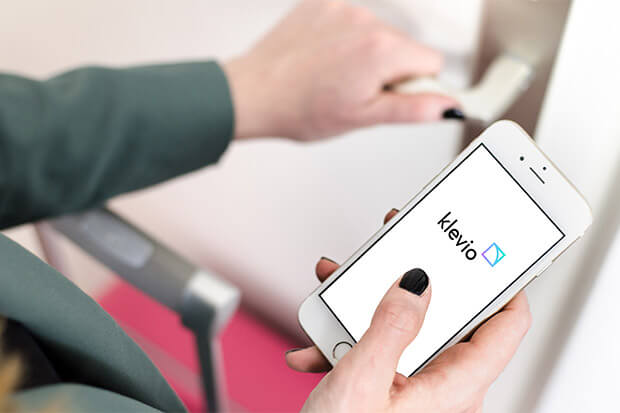 Full visibility for peace of mind
As an Airbnb Host, it's important that you know when guests arrive and enter your property. With the Klevio system, you are able to view the Event Log which shows when someone has locked or unlocked a particular door.
You'll then enjoy peace of mind that your property is being used appropriately.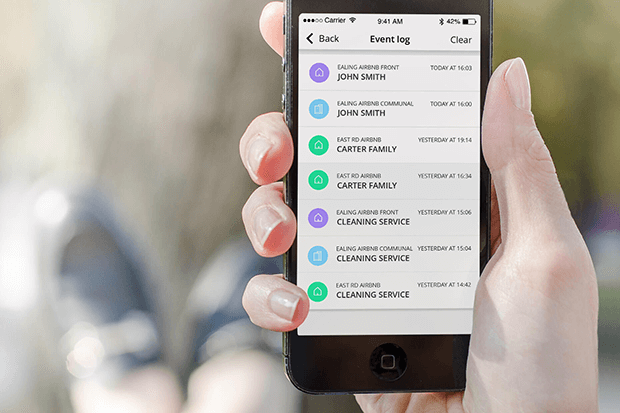 How to get a Keyless Entry System for your Airbnb
It's ultra-easy to get a keyless entry system installed at your Airbnb property.
You can get a quote for a keyless entry system. An advisor will then give you a tailored quote, explain the Klevio system in more detail and answer any questions you may have.
The installation team will then arrange a convenient time to come and add the keyless entry system to your Airbnb.
Once installed, you'll also enjoy ongoing support to ensure you always get the most out of the system.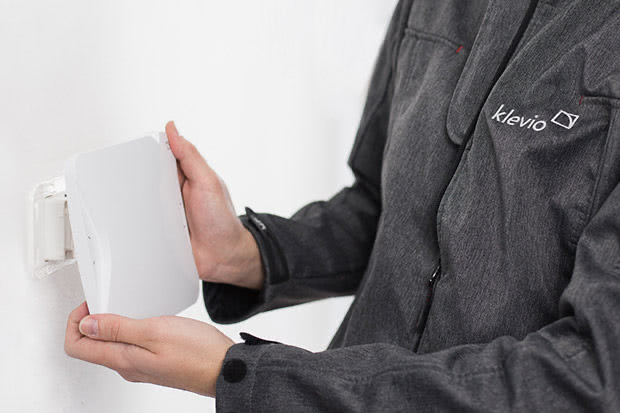 How it gets fitted
There are a number of elements in the installation process.
Klevio-enabled doors are fitted with an electric strike that sits in the door frame as a replacement for the fixed metal keep. We typically only need to add one to private front doors, as communal doors are often electrified already.
The keyless access device connects to Klevio's secure servers via WiFi or 4G, letting you unlock doors remotely from either your personal web dashboard or phone app. When the signal is received, the servers communicate with the device and instruct it to release the electric strike, unlocking your door in the process.
The keyless entry system uses bank-level encryption standards, giving you the same level of security as when you make financial transactions online. And, the hardware is only visible inside a property, making it more discreet than both a traditional smart lock and lock box. Hidden.
This keyless entry system has been made by Hosts, for Hosts
After almost two years of R&D, Klevio is the product of all our expertise in hospitality. Designed with the needs of Airbnb Hosts in mind, our technology was first developed for the luxury homestay provider onefinestay, so we understand first-hand the importance of seamless self check-in.
Using greeters or a key deposit scheme can cost anywhere between £20 and £100 a month. And while lock-boxes may be cheaper, guests often struggle to find and open them, plus they can compromise security.
On the other hand, Klevio is saving Hosts thousands of pounds, hours of time and providing complete peace of mind. Not only that, the Hosts with Klevio installed have reported an overall improvement in guest feedback ratings too.
Keen to know more about these options? Check out this article which highlights the questions you need answered before you buy a smart lock for your business.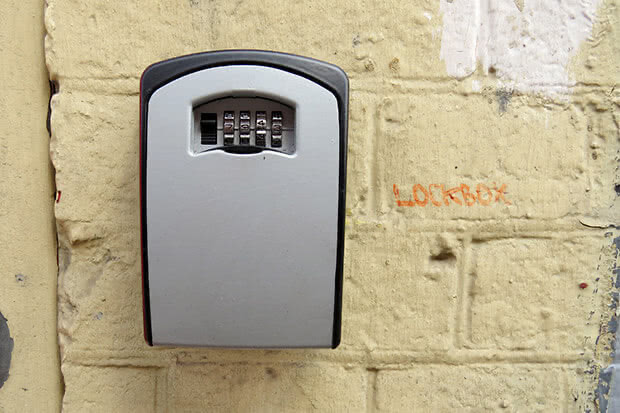 What should Hosts do now?
So if you're a Host who'd like to offer your guests the "Wow!" factor of opening your doors using their phone, plus having the ability to remotely lock or unlock your doors, allocate and revoke keys to guests as required, and much more, we'll show you how it works.
You can also find out more about how Klevio's keyless access system works.